VLADIMIR HOROWITZ AND HIS BIOGRAPHY
(Courtesy: Wikipedia)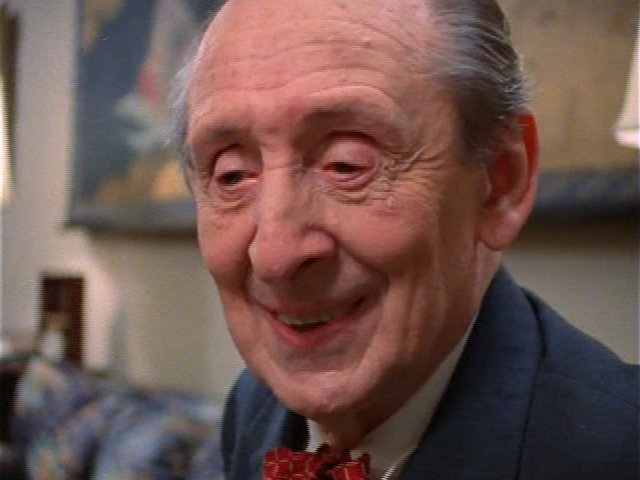 Vladimir Samoylovich Horowitz (Russian: Владимир Самойлович Горовиц, Vladimir Samojlovič Gorovits; Ukrainian: Володимир Самійлович Горовиць, Volodymyr Samiilovych Horovyts) (1 October 1903 – 5 November 1989 ) was a Russian-american classical pianist. In his prime, he was considered one of the most distinguished pianists of any age. His technique, use of tone color and the excitement of his playing were legendary. Though sometimes criticized for being overly mannered and showy, he has a huge and passionate following and is widely considered one of the greatest pianists of the twentieth century.
Life and early career
Horowitz himself said that he was born in Kiev, Ukraine under the Russian Empire,] but some sources have given Berdichev, Ukraine as his birthplace. His cousin Natasha Saitzoff, in a 1991 interview, stated that all four children were born in Kiev]; Horowitz's wife, Wanda Toscanini, however, gave credence to the Berdichev possibility. Rabbinical documents also support a Berdichev birth.
He was born in 1903, but in order to make Vladimir appear too young for military service so as not to risk damaging his hands, his father took a year off his son's age by claiming he was born in 1904. The 1904 date appeared in many reference works during the pianist's lifetime.
Horowitz received piano instruction from an early age, initially from his mother, who was herself a competent pianist. In 1912 he entered the Kiev Conservatory, where he was taught by Vladimir Puchalsky, Sergei Tarnowsky, and Felix Blumenfeld. He left the conservatory in 1919 and performed the Rachmaninoff Piano Concerto No. 3 in D minor at his graduation. His first solo recital was performed in 1920.
His star rose rapidly, and he soon began to tour Russia where he was often paid with bread, butter and chocolate rather than money, due to the country's economic hardships. During the 1922-1923 season, he performed 23 concerts of eleven different programs in Leningrad alone. On January 2, 1926, Horowitz made his first appearance outside his home country, in Berlin . He later played in Paris, London and New York City. Horowitz settled in the United States in 1940, and became an American citizen in 1944.
Career in the US
Horowitz gave his U.S. debut on January 12, 1928, in Carnegie Hall. He played Tchaikovsky's First Piano Concerto under the direction of Sir Thomas Beecham who was also making his U.S. debut. Horowitz later commented that he and Beecham had divergent ideas regarding tempos, and that Beecham was conducting the score "from memory and he didn't know" the piece.[citation needed] Horowitz's success with the audience was phenomenal, and a solo recital was quickly scheduled. Olin Downes, writing for the New York Times, was critical about the metric tug of war between conductor and soloist, but Downes credited Horowitz with both a tremendous technique and a beautiful singing tone in the second movement. In this debut performance, Horowitz demonstrated a marked ability to excite his audience, an ability he preserved for his entire career. As Olin Downes commented, "it has been years since a pianist created such a furor with an audience in this city." In his review of the Horowitz's solo recital, Downes characterized the pianist's playing as showing "most if not all the traits of a great interpreter."
In 1932, he played for the first time with the conductor Arturo Toscanini in a performance of the Beethoven Piano Concerto No. 5, 'Emperor'. Horowitz and Toscanini went on to perform together many times, on stage and in recordings.
Despite rapturous receptions at recitals, Horowitz became increasingly unsure of his abilities as a pianist. Several times, he withdrew from public performances - during 1936 to 1938, 1953 to 1965, 1969 to 1974, and 1983 to 1985. On several occasions, Horowitz had to be pushed onto the stage. After 1965 he gave solo recitals only rarely. He made his television debut on September 22, 1968, in a concert televised by CBS from Carnegie Hall.
Recordings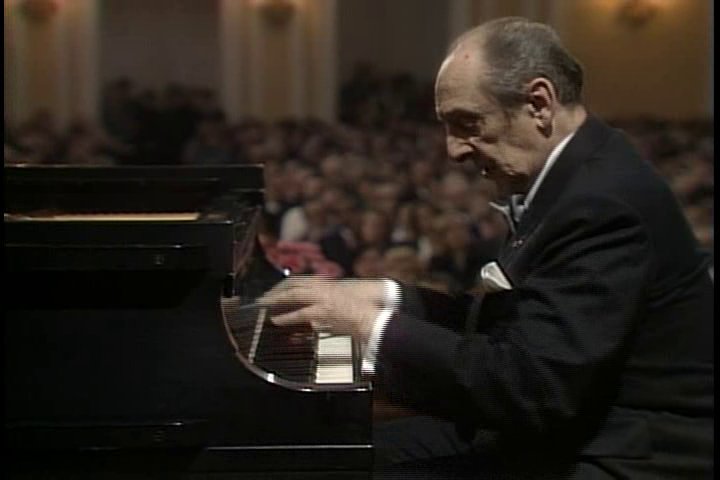 Horowitz made numerous recordings, starting in 1928, upon his arrival in the United States. His first recordings in the US were made for RCA Victor. Because of the economic impact of the Great Depression, RCA Victor agreed to allow its recording artists' European-produced recordings to be made by HMV, RCA's London based affiliate. Horowitz's first European recording, in 1930, was of the Rachmaninoff Piano Concerto No. 3 with Albert Coates and the London Symphony Orchestra, the world premiere recording of that piece. Through 1936, Horowitz continued to make recordings for HMV of solo piano repertoire, including his famous 1932 account of the Liszt Sonata in B minor. Beginning in 1940, Horowitz's recording activity was again concentrated in the United States. That year, he recorded Brahms Piano Concerto No. 2, and in 1941, made his first recording of the Tchaikovsky Piano Concerto No. 1, both with the NBC Symphony Orchestra under Toscanini. In 1959, RCA issued the live 1943 performance of the concerto with Horowitz and Toscanini; some[attribution needed] say it is superior to the commercial recording. Beginning in 1953, when Horowitz went into retirement, he made a series of recordings in his New York townhouse, including discs of Scriabin and Clementi. Horowitz's first stereo recording, made in 1959, was devoted to Beethoven piano sonatas.
In 1962, Horowitz embarked on a series of highly acclaimed recordings for Columbia Records. The most famous among them are his 1965 return concert at Carnegie Hall and a 1968 recording from his television special, Vladimir Horowitz: a Concert at Carnegie Hall, televised by CBS. Horowitz also continued to make studio recordings, including a 1969 recording of Kreisleriana by Robert Schumann, which was awarded the Prix Mondial du Disque.
In 1975, Horowitz returned to RCA Victor, and made a series of live recordings until 1982. He signed with Deutsche Grammophon in 1985, and made both studio and live recordings until 1989, including his only recording of the Piano Concerto No. 23 (Mozart). Four filmed documents were made during this time, including the telecast of his April 20, 1986 Moscow recital. His final recording, for Sony Classical, was completed four days before his death.
Students
Beginning in 1944, Horowitz began working with a select group of young pianists. First among these was Byron Janis, who studied with Horowitz until 1948. Janis described his relationship to Horowitz during that period as that of a surrogate son, and he often traveled with Horowitz and his wife during concert tours. During his second retirement he worked with more pianists, including Gary Graffman (1953-1955), Coleman Blumfield (1956-1958), Ronald Turini (1957-1963), Alexander Fiorillo (1950-1962) and Ivan Davis (1961-1962). Horowitz returned to coaching in the 1980s, working with Murray Perahia, who already had an established career, and Eduardus Halim. By this time, Horowitz was concerned that a pianist studying with him might be regarded as a Horowitz clone, so the sessions were not publicized and Horowitz insisted "I am not teaching you. I give you tips." Late in his career, Horowitz only endorsed Janis, Graffman, and Turini as pupils, although he admitted a number of pianists had played for him.
Personal life
In 1933, in a civil ceremony, Horowitz married Toscanini's daughter Wanda. Their different religious backgrounds—Wanda was Catholic, Horowitz Jewish—was not an issue, as neither was observant. As Wanda knew no Russian and Horowitz knew very little Italian, their primary language became French. They had one child, Sonia Toscanini Horowitz (1934-1975).
Despite his marriage, there is considerable independent evidence that Horowitz was gay. He is credited with the quote: "There are three kinds of pianists: Jewish pianists, homosexual pianists, and bad pianists".
Horowitz underwent psychological treatment in the 1950s in an attempt to alter his sexual orientation. In the early 1960s and again in the early 1970s, he underwent electroshock therapy for depression.
The last years
In 1982, Horowitz began using prescribed anti-depressant medications, and his playing underwent a perceptible decline. The pianist's 1983 performances in the United States and Japan were marred by memory lapses and a loss of physical control. By 1985, Horowitz, no longer taking medication, returned to concertizing and recording and was back on form. In many of his later performances, the octogenarian pianist substituted finesse and coloration for bravura, although he was still capable of remarkable technical feats.
In 1986, Horowitz returned to the Soviet Union to give a series of concerts in Moscow and Leningrad. In the new atmosphere of communication and understanding between the USSR and the USA, these concerts were seen as events of some political, as well as musical, significance. The Moscow concert, which was internationally televised, was released on a compact disc entitled Horowitz in Moscow, which reigned at the top of Billboard's Classical music charts for over a year. His final tour took place in Europe in the spring of 1987. A video recording of one of his last public recitals, Horowitz in Vienna, was released in 1991. He continued to record for the remainder of his life.
Vladimir Horowitz died on 5 November 1989 in New York of a heart attack. He was buried in the Toscanini family tomb in Cimitero Monumentale, Milan, Italy.