REMINDING HOLOCAUST (September 14th - 2018)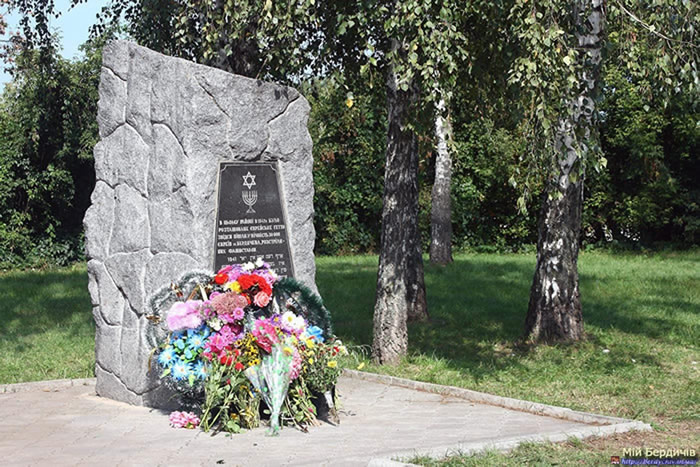 In Berdichev, the memory of the innocent victims during the Second World War was honored. At the memorial sign to the victims of the Holocaust, on September 14, an hour of grief "Remember ... for the sake of tolerance and peace ..." and a mournful ceremony of laying flowers on the graves of those who perished and to memorable places took place.
Also at the public meeting of the city was the director of the Memorial to the murdered Jews of Europe Foundation from Germany, Uwe Neumarker. An international organization examining the tragedy of the massacre of Jews by Germans and other civilians, preserves and commemorates the Holocaust victims. As part of the research and memorial activities in Ukraine, the project "Protect the memory" is being implemented.
Uwe Neumarker said in his speech: "Dear Ladies and Gentlemen, It is a great honor for me to be with you and to have the opportunity to speak. Today, we honor the memory of Jewish children, women, men who were killed only because they were Jews. We express our respect for the victims and show that they are not forgotten and will not be forgotten. They had dreams, hopes, desires, but they were deprived of life. We, Germans, have long been silent for a long time. Still few people know about the mass executions of Jews in Ukraine. Only six decades after the end of the war, a monument to the murdered Jews of Europe was opened in Berlin. This monument is evidence of Germany's constant responsibility for crimes against humanity. This responsibility is born by both my generation and the future generations. It is good that together the administration of the city and the Jewish community decided to add this place to the memory of the history of the Berdichev Jews and their destruction. Today, I stand here as a German, as director of the National Holocaust Memorial in Berlin, as well as the father of two children. I am overwhelmed with shame, the sadness of the grief that my Fatherland has done to your Motherland. Our shared responsibility is to preserve our memory. "
[HOME] [BACK TO BERDICHEV TODAY]