Jews in the Soviet Union from 1941
up to the end of the Soviet era
(Part 7 of 8)
The Reforms: 1985 - 1991
The reforms formulated by Mikhail Gorbachov also affect Jewish life in the Soviet Union. In February 1986, Anatoly Shcharansky is permitted to emigrate, soon followed by other refuseniks. Andrei Sakharov and Elena Bonner are released from their exile in Gorki in December.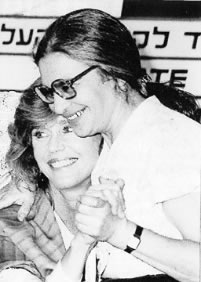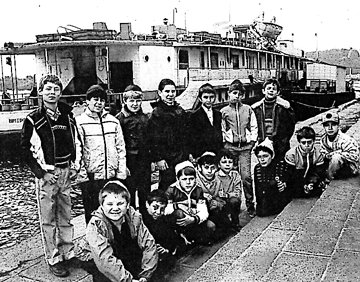 At your left, Ida Nudel is greeted upon her arrival in Israel in October 1987 by the American actress Jane Fonda. In 1987, practically all the remaining "Prisoners of Zion" were released and received permission to emigrate.
At your right, the first Jewish school to be re-established in Kiev in 1990 had to conduct its classes in an old ship rented by the community as no other accommodations were as yet available.
The revival of Jewish life begins with the formation of cultural societies for music, theater and dance. Language courses in Yiddish and Hebrew, the latter no longer a banned language, are set up. In St.Petersburg the first Jewish gymnasium is opened, and dozens of Jewish magazines and newspapers begin to be published. The growth in the number of cultural associations leads to the founding, in December 1989, of the VAAD, a national Jewish umbrella organization. Its aims are to promote Jewish life, to combat anti-Semitism and to assist in emigration to Israel.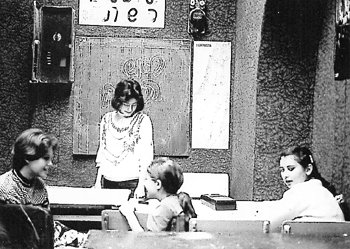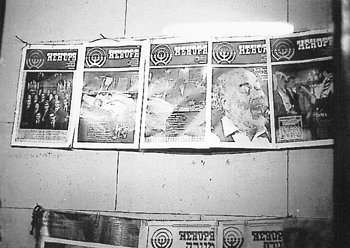 At you left, a Hebrew language class in the Jewish Cultural Center in Odessa in September 1991.
At your right, the 1990s saw the emergence of a free and independent Jewish press like "Menorah," a newspaper published in Moscow.

Now that they have the right to choose where to live, a great number of Soviet Jews decide to emigrate. Between 1987 and 1991 more than half a million Jews leave the country, of which 350,000 go to Israel and 150,000 to the United States.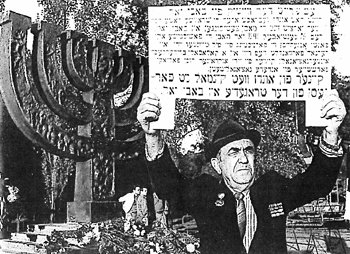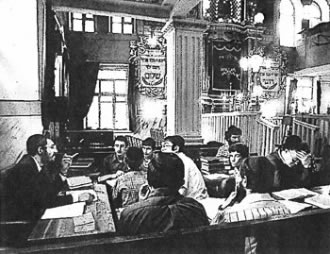 At your left, a Jewish war veteran welcomes the erection of a Menorah at the site of Babi Yar, Kiev. In 1991, the 50th anniversary of the massacre was officially commemorated in the presence of Leonid Kravchuk and representatives of Israel and Germany.
At your right, after being closed for 70 years, a yeshiva (school for religious Jewish studies) reopened in Kiev in 1991.
For decades, the number of mixed marriages has been very high, approaching 50 percent. Only 10 percent of children of mixed marriages opt for Jewish nationality. This weakening of Jewish identity, combined with large-scale emigration, has brought down the number of Jews in Russia, once the largest Jewish community with 5 million people at the turn of the century, to less than half a million.