Jews in the Soviet Union from 1941
up to the end of the Soviet era
(Part 1 of 8)
Behind the Front
With the annexation of the Baltic states and large areas of Poland and Romania, the Jewish population of the Soviet Union is increased by more than two million. In these territories with their distinctive Jewish communities, the Soviet authorities immediately start to close down all institutions of Jewish religious, cultural and political life.
In spring 1941, tens of thousands of Jews from the annexed territories are arrested and deported to labor camps in the interior. In spite of the hardships there, they are unintentionally saved from deportation to the Nazi death camps.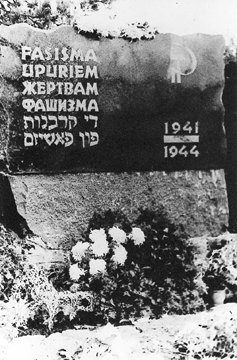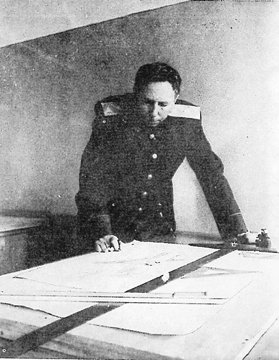 At your left, "To the Victims of Fascism," written in Latvian, Russian and Yiddish on the small monument in Rumbuli, Latvia. An estimated 38,000 Jews were killed at this site in the autumn of 1941.
At your right, Soviet Jews contributed to the war effort in many forms. Major General Semen Lavotchkin designed the most popular aircraft used during the war and was awarded the title Hero of Socialist Labor.
The Soviet authorities are well informed about the persecution of Jews by the Nazis, but they do not pass this information on. Soviet Jews are kept ignorant about the specific anti-Jewish nature of National Socialism, and the German occupation finds them mostly unprepared. In all his war speeches, Stalin himself mentions anti-Semitism only once, in November 1941.
This policy of silence is continued during and after the war. The writer Valery Grossman sends a report in 1943 from the newly liberated Ukraine that hundreds of thousands of Jews have "vanished from the earth," but his newspaper, the Krasnaya Zvezda of the Defense Ministry, does not print it.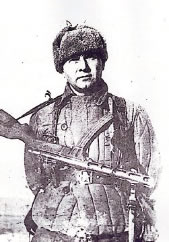 At your left,Major C. Kunikov (1919-1943), Hero of the Soviet Union, commander of the amphibious force that landed near Novorossisk. He is listed in the unit's personnel roll in perpetuity.
At your right, after the liberation in 1944, the surviving members of the Jewish community of Rovno, Ukraine, carry the desecrated Torah scrolls outside the synagogue to be buried.
In spite of all this, the Jews of the Soviet Union take an active part in the fight against Nazi Germany. About half a million serve in the Red Army, and many volunteer for service at the front. Jewish soldiers run an extra risk: when taken prisoner, they are bound to be shot immediately. An estimated 200,000 Soviet Jews die on the battlefield.
During the war, the old anti-Semitic stereotype of Jews as cowardly soldiers is resurrected. Rumors circulate that Jews are "draft dodgers" and to "not be seen anywhere near the front." However, when the war is over, the number of Jews awarded war decorations is proportionally higher than that of any other national group.