BERDICHEV HOSTS RECORD TURNOUT OF JEWISH PILGRIMS
BERDICHEV, Ukraine – Just two days after the cloase of the Tishrei holidays, Jews the world over marked the 200 year anniversary of the passing of Rabbi Levi Yitzchak of Berdichev, one of the main disciples of the Maggid of Mezritch. Renown especially for his love of G-d and his fellow Jews, Rabbi Levi Yitzchak spent his last 25 years as the rabbi of the city of Berdichev. In Berdichev, Ukraine, where Rabbi Levi Yitzchak is buried, many special programs were organized to commemorate the life and work of this great tzadik (righteous person).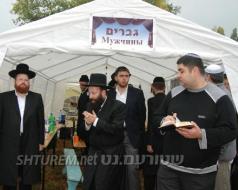 The activities were overseen by Chief Rabbi of Berdichev Moshe Taller, who is also a Chabad-Lubavitch emissary serving in the region. The local Jewish community carried out the necessary preparations thanks to the financial support of Mr. Aaron Meiberg, who made this contribution to honor his parents' memory.
One of the special projects commemorating the 200-year anniversary was the publishing of a booklet with excerpts from Rabbi Levi Yitzchak's teachings as well as a book of Psalms with commentary by Rabbi Levi Yitzchak.
The number of visitors to Rabbi Levi Yitzchak's gravesite on or around the yartzeit was more numerous than usual. For their convenience, the Jewish Community Center organized a hospitality center at the cemetery, where visitors were able to get kosher food, have use of restrooms and special water containers for the ritual washing of hands after visiting a grave were also made available. Additional lights were also installed at the cemetery for those people coming at night. The police provided for the visitors' safety, while the city government arranged a pedestrian crossing for the visitors in front of the cemetery.
On Tuesday, 25 Tishrei (October 13 this year) everyone was welcome to participate in a special meal in the central courtyard of the city's synagogue. Many rabbis and public figures attended the meal, including Mikhail Yudanin, a board member of the World Congress of Russian Jewry, who is a friend of the Jewish community of Berdichev. Mr. Yudanin received an honorary certificate in appreciation for his support of the Jewish community's growth and development.
Mayor of Berdichev Vasiliy Mazur, who actively contributed to the reception's organization, greeted the visitors. He noted that Berdichev owes its world-famous name to the Jewish people (in the past, the city was considered the unofficial Jewish capital of the Russian empire), and expressed his hopes that Jewish life in the city will continue to undergo a revival.
Upon departing Berdichev, many of the visitors expressed their appreciation for the warm reception, which Rabbi Taller hopes will now become a tradition.